INSTALLATION INSTRUCTIONS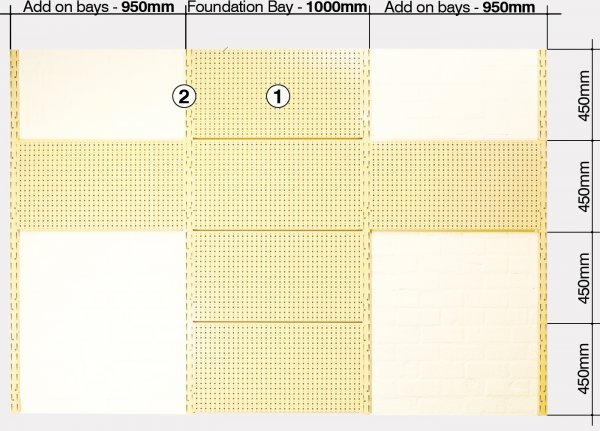 Installation on a wall
Leave the supports on the side of the panel to get accurate locations for your wall anchors.
Hold the FOUNDATION PANEL against the wall and locate using a tape measure and a spirit level. Mark the hole locations and drill:
Dry-wall anchors: 6mm hole;
Timber Screws: 3mm hole.
Anchor the first panel in place.
Remove a support from the side of the ADD-ON PANEL.
Connect this panel to the side of the first panel already mounted.
Mark the holes, remove the panel and drill. Anchor the panel in place.
Repeat step 3 for all ADD-ON PANELS along the first row.
to add a row above or below the first row, mount a FOUNDATION PANEL against the top or bottom of one of the panels in the previously completed row, using the locator lugs on the supports.
Repeat the step 2 mounting procedure.
Repeat the step 3 mounting procedure to complete the row.
Ensure that the panel plug is clipped into the top slot for each panel to ensure the panel does not come loose.
Installation in a cabinet
When the panel is to be mounted within a cabinet, take the two-panel supports and slot them over the support column at the rear of the housing. Anchor in place using the tapered pins supplied.
Attach the panel to the supports and anchor in place using panel plugs.
Important Installation Information
Use the correct wall anchor for your wall type.
Ensure your mount the panel using all of the anchor locations on the support bracket.
Always remember to clip in the panel plug.