BAC Storage Modules "W" Series
Cabinet footprint 1310 mm wide x 755 mm deep.
Internal drawer dimensions 1200 mm wide x 600 mm deep.
The larger-size "W" series modules are constructed with the same precision and quality finish as the BAC "A" and "M" series. A forklift attachment can be bolted to four fixing points in the cover, and the base has four adjustable levelling feet to adjust to uneven floors.
These modules are fitted with a cylinder lock acting on all drawers. This patented central locking system is available with master-keying or keyed alike on request.
The standard finish for all modules is a high-quality powder coating in BAC beige.
SHELVES TYPE "W" - Adjustable in 15 mm spaces 1250 mm wide x 720 mm deep, capacity 180 kgs each
SHELF SEPARATORS TYPE "W" - To fit slots in 50 mm spaces
Type W15 - 150 mm high x 720 mm deep
Type W36 - 360 mm high x 720 mm deep
Type W61 - 610 mm high x 720 mm deep
Type W93 - 930 mm high x 720 mm deep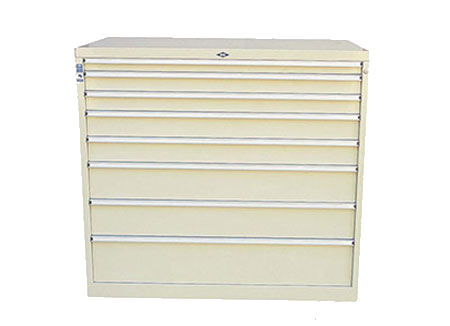 The drawer is a larger format of 1200 mm x 600 mm to be subdivided with up to 288 locations using adjustable partitions and dividers.
The drawer floor is perforated to fasten tools and parts in place with BAC partitioning screws.
The drawer-runners are fitted with precision steel ball bearings and have built-in safety stops with side guides.
The handle holds a removable label and endcaps in an aluminium extrusion designed for easy access.